Skijoring is a when a person on skis is pulled by a one or more animals, such as a horse, dogs or domesticated reindeer, or by a vehicle such as a car or snow mobile.
The word is derived from the Norwegian word skikjøring, which means ski driving.
Skijoring originated as a mode of transportation, but is also carried out recreationally and competitively. In 2022, over 25 different skijoring events took place in the United States and Canada. In Europe, St. Moritz, Switzerland is an omphalos for skijoring, especially during the White Turf event, which spans three consecutive weekends. Another great spot for skijoring in Europe is Podhale in souther Poland, where several events are held annually.
Reindeer skijoring is still practised recreationally and competitively in the Nordic countries. Examples of places where notable reindeer skijoring races are held are Tromsö in Norway and Inari in Finland.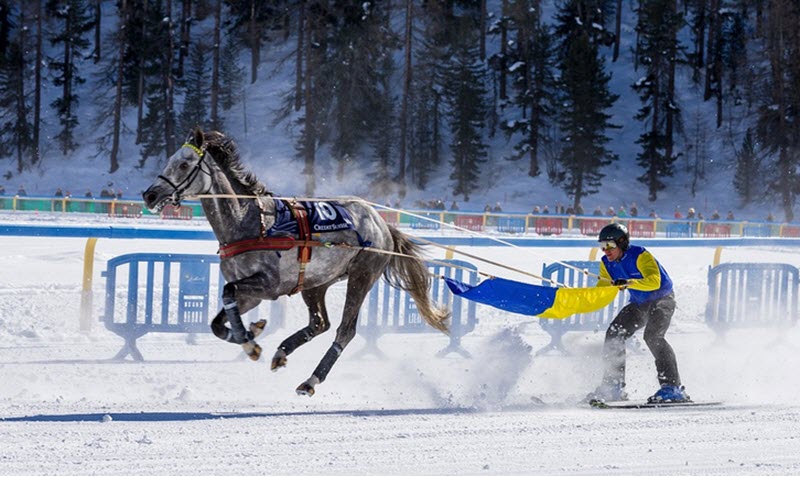 Dog skijoring
Modern dog skijoring is typically done on cross-country skis behind one to three dogs.
The skier wears a skijoring harness and the dogs wear sled dog harnesses.
Unlike dog sledding, no reins are used. The skier holds ski poles in their hands, and use their voice to communicate with the dogs.
Many different dog breeds and mix breeds enjoy dog skioring and are born with an innate desire to pull. It is important to learn beforehand about the appropriate safety measures, to prevent injury or exhaustion in the dogs.
Skijoring background
Ancient roots
Skijoring is known from several different parts of the world where there is snow. The Sami people in the Nordic countries does for instance have a tradition of standing on Nordic skis while being pulled by their reindeer, and in China, we know that people were skijoring behind dog teams during the Yuan and Ming dynasties.
Early 20th century
Skijoring behind reindeer was one of the disciplines at the inaugural 1901 Nordic Games in Stockholm, and was also present in the 1905 and 1909 Nordic Games. The Nordic Games were the first international multi-sport event focused chiefly on winter sports, and it was in many ways a precursor to the modern Winter Olympic Games. Reindeer skijoring did not make it into the Winter Olympic Games, but horse skijoring made an appearance at the inaugural 1924 Chamonix International Winter Sports Week. It was also included as an exhibition sport at the 1928 Winter Olympic Games in St. Moritz, Switzerland.
In the Alpine region, equine skijoring became popular in the 1910s and could be enjoyed in winter vacation hubs such as Chamonix, St. Moritz and Garmish-Partenkirchen. Typically, the skier would steer the horse using reins.
It was probably from the Alpine vacation spots that skijoring spread to North America, where it appeared as a recreational activity in the Lake Placid area of New York State and in Steamboat Springs, Colorado as early as 1915. Also, skijoring was included in the Winter Carnival at Dartmouth College, New Hampshire from 1916.
Cowboy skijoring
In the United States, a new version of equine skijoring developed where there would be a rider on the horse. Early examples of this version are known from mountain towns such as Jackson, Wyoming and Aspen, Colorado.
For this version of skijoring, a long rope would be attached to the horn of a western-style saddle. A knot was added to the other end of the rope, and the person on skis would hold on to the rope while the rider rode the horse in gallop along a straight-away, such as snow-covered road or snow-covered open field. Often, several teams would compete alongside each other, side by side (rather than against the clock).
Obstacle course skijoring
In Leadville, Colorado, USA, a new type of skijoring competition was introduced in 1949: obstacle course skijoring, with gates, jumps and rings for the skier to traverse.
Skijoring behind motorized vehicles
Skijoring behind motorized vehicles, such as cars, motorbikes and snowmobiles, has been fairly popular since the 1950s.
One notable example from our time is the Arctic Man competition in Alaska, where skiers are pulled by snowmobiles at speeds sometimes exceeding 85 mph.