If you are interested in trying out a new and popular sport this winter, read on. This guide will tell you all you need to know about the world of downhill skiing.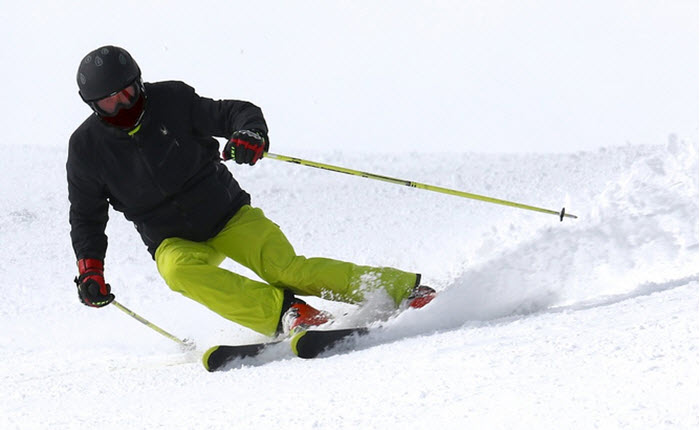 What is Downhill Skiing?
In the Olympics, downhill skiing is one of the five events in skiing competitions – the four others are Slalom, Giant Slalom, Super Giant Slalom (Super-G) and Super Combined. Downhill skiing was one of the first forms of 'alpine skiing' – and in fact 'alpine skiing is still sometimes used when referring to downhill skiing as a recreational activity.
The Fédération Internationale de Ski (FIS) recognized the sport officially in 1930, and it first appeared as a medal competition in 1948 in St Moritz, Switzerland. The Alpine Ski World Cup world cup opens every year in Sölden, Austria.  The glaciers of Tiefenbach and Rettenbach garantees good alpine skiing all year round makinhg Sölden the ideal place to hold the first event of the season.
What is Involved in Downhill Skiing?
Racers must follow a downhill slope that varies in length and vertical drop for both men and women.
Male skiers:
Must race down a course that is usually 2.4- 5km (1.5 – 3m) long
Have a vertical descent of up to 1,000m (3, 281ft)
Female skiers:
Must race down a course that is approximately 1.6 – 2.5 km (1 – 1.5 miles) long
Have a vertical descent of about 700m (2,297ft)
Equipment
In the past decade or so parabolic (or 'shaped') skis have become the most popular when it comes to downhill competitions, mostly because they provide better control, are easier to steer and are better for muscles and joints when compared to traditional alpine skis. Downhill skis are also 30% longer than those used in slalom racing.
Racers must wear crash helmets for safety and to prevent the risk of head injuries in the event of an accident. Skiers must ensure that their gear is of the right size and suitable for their skill level, and sunscreen must be worn to protect any exposed skin. Skin-tight suits are worn to minimize air resistance.
General Rules
According to the FIS, the six essential features of downhill skiing are: technique, courage, speed, risk, physical condition and judgement.
Further rules include:
The gates which mark the downhill course must be set at least 26ft (8 metres) away from each other. These gates are two twin poles with a rectangular panel between them.
Protective equipment (such as fences, slip-sheets or pads) must be present to safeguard the racers against any obstacles on the course.
The width of the course is usually 30 metres (100ft) wide, in case of any racers performing jumps or drop offs and to regulate speed. Inspectors may order widening if necessary.
What are the Benefits of Downhill Skiing?
Downhill skiing can burn 400 calories an hour for a person weighing 150 pounds, making it an excellent form of cardiovascular exercise. It strengthens the heart and releases adrenaline and endorphins into the bloodstream.
Skiers and competitors have to maintain a 'tuck' position when proceeding down a course in order to go faster and be more aerodynamic – this activates the core abdomen muscles and tones those in the lower body.