The oldest snow and ice sculpting competitions began in 1886 in Minnesota, as part of the St Paul Winter Carnival. The oldest winter carnival in the world, it began as a response to a New York reporter's comparison of St Paul to Siberia, claiming it "unfit for habitation". The people of St Paul proved the description false by holding the winter festival a year later.
Snow sculptures can be created by anyone as domestic ornaments in outdoor spaces or yards; they are often exhibited as performance art for public viewing at various competitions and events around the world. From the traditional children's snowman to the awe-inspiring ice palaces at the Harbin festival in China, snow sculpting ranges from being simple a hobby to a respected art form.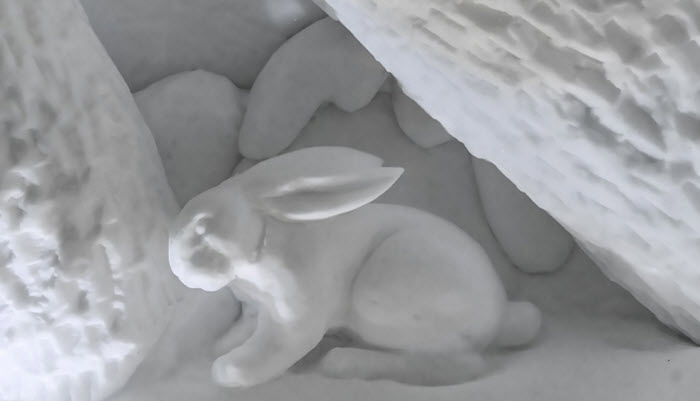 How Are Snow Sculptures Made?
Snow sculpting needs a specific type of snow – wet enough to be shaped and compressed, rather than dry and powdery. Depending on what kind of structure or shape you want to build, various tools may be used for digging, carving, hacking and sculpting – shovels, snow saws, chisels, rakes and snow scoops. Champion snow sculptors have even suggested using simple household items such as spoons and spatulas, along with empty Tupperware and milk cartons, to mould different shapes together.
Larger snow sculptures are often built by a team of people working together and following pre-planned designs on paper. Sun direction is also taken into consideration in terms of the snow melting or losing consistency. Different tools are used to gradually shape the desired form, and sculptors like to keep some gloves, buckets and even ladders handy for the final touches and any necessary repairs at the end.
Famous Snow Sculpting Competitions
The world's biggest snow and ice sculptures are found at the Harbin International Ice and Snow Sculpture Festival in China. It is one month long and begins on the 5th January, although it may also last longer if weather permits. Sculptors and artists from all over the world take part in this festival.
The Budweiser International Snow Sculpture Championships are held in Breckenridge, Colorado, in the United States. The technical and competitive stages run from the 19th until the 31st January, and the sculptures remain on display until the 8th February.
The Sapporo Snow Festival in Hokkaido, Japan, runs from the 5th to the 11th February. Over two million guests are estimated to attend each year to gaze at a total of roughly 200 snow sculptures.
Did You Know?
The largest ever snow sculpture was built in 2007 at the Harbin Festival. Named "Romantic Feelings", it consisted of an Olympic-themed landscape, complete with an ice maiden, a French cathedral, Chinese palaces and a Russian church. Built by 600 sculptors from 40 different countries, this magnificent creation measured 200 meters (656 feet) in length and 35 meters (115 feet) in height. All in all, this sculpture used 3,398 cubic meters of natural ice and snow, joining together 15ft square blocks compressed and hewed by a variety of sculpting tools.